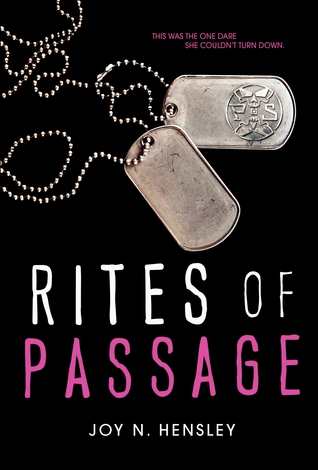 My Thoughts
I haven't really read military themed books, just books about PTSD after deployment, since this one was about teenagers going to military academy it had a different context.
Sam McKenna it's one of the first 4 teenage girls about to enroll in a really prestigious military academy, she's military legacy since her father and both older brothers are also military but that doesn't matter since almost everybody it's against the idea of changing the academy to a co-ed program. That doesn't stop Sam, she wants her father's approval and to complete her oldest brother dare (he died after he dare her to do it and it's mentioned several times that she never backs out of a dare).
Needless to say she's subjected to a lot of abuse from her peers and her family doesn't support her, she's trying to deal with her brother's death and the cruel and hostile environment doesn't help with her mental and emotional well being.
I've to confess that through out the whole book I was always afraid and expecting Sam to be gang raped or something like that, every time there was a sense that something was going to happen I was pleading with myself "please just don't be sexual assault, please, please!" Nevertheless there was a lot of physical and mental assault for poor Sam. She develops friendships but she's also really stubborn and didn't accept help without a fight, she wanted to prove herself and didn't gave importance to her safety.
There are a different subplots and interesting characters that made the story compelling and entertaining, overall I give it 
even though I was sad because the ending has just a partial HEA.