Every tuesday arrives with new books, and today we are excited for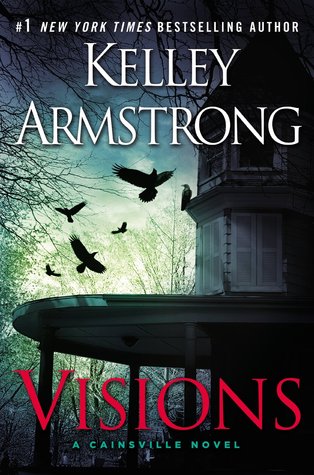 Visions is the book 2 in the Cainsville Series, if you haven't read the first,Omens: A Cainsville Novel
, then you have to … do it!! READ IT NOW!!! I'll upload Omens Review soon (I read it a year ago, and I still haven't wrote the review … and its one of my favorite books …. WHAT'S WRONG WITH ME!!!???) … in the meanwhile … here you have some Omens quotes that, I hope, will pick your interest  …
"First you buy me a mocha. Then you let me help you hide a body. Now you take me to a biker clubhouse. Best. Day. Ever."
You want a strong heroine, Olivia, a complex (and kind of douche) hero, Gabriel, and a good mystery with a touch of supernatural??
"When I hung up, Gabriel said, "Now you're going out that—"
"I'm not leaving you."
"Don't be stupid. I have a gun." He reached into his pocket and pulled out the .45.
"Which will knock you on your ass if you try firing with a bad leg. Sit down before you fall."
"I'm—"
"Sit down."
I walked to the door and peered out. If I strained, I could hear footsteps above. Anderson would search the other rooms first. Then he'd come down here.
When I returned, Gabriel was still standing, leaning against the washing machine. Stubborn bastard.
"So you're staying with me?" he said.
"Yep."
"You may not want to do that."
"Too bad."
"I wouldn't stay for you."
"Probably not."
His mouth opened, as if he'd been prepared for me to disagree. He paused and then said, "I wouldn't. You know I wouldn't."
"Doesn't matter. You're my partner. I watch your back."
Don't expect insta-love with you-can-cut-the-sexual-tension-in-the-air-with-a-knife. But I expect some smexy time in Visions … or … eventually!!!!!
Now … if you excuse me …
–Mags